Welcome

Alzheimer Europe's June 2017 newsletter brings you the latest news on our activities and on developments in the dementia field.

Summaries of a few of our top stories appear below.

Our monthly newsletter has over 7,500 subscribers and we are always happy to receive your comments and news to share with them in future issues.
6 June: Is the future of European health policy in jeopardy?

There have been concerns, recently, regarding the future of European health policy. A joint letter, signed by AE and 38 other organisations, has been sent to President Jean Claude Junker highlighting these fears and asking for an urgent meeting. We remain optimistic and will keep you appraised of any updates.

Read more »
27 June: AE launches European Dementia Monitor 2017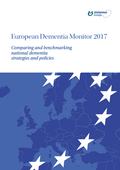 Our new publication, the European Dementia Monitor 2017, was launched during the AE lunch debate on 27 June. The objective of the report is to provide a benchmark of national dementia policies in order to compare and rate the responses of European countries to the dementia challenge.
Read more »
28 June: Scotland launches its third dementia strategy

On 28 June 2017, the third National Dementia Strategy for Scotland was launched, news which was welcomed by Alzheimer Scotland, who said this "demonstrates a long-term commitment from the Scottish Government to improve the lives of people with dementia and those who care for them in Scotland".
Read more »

This newsletter received funding under an operating grant from the European Union's Health Programme (2014-2020).
The content of this newsletter represents the views of the author only and is his/her sole responsibility; it cannot be considered to reflect the views of the European Commission and/or the Consumers, Health, Agriculture and Food Executive Agency or any other body of the European Union. The European Commission and the Agency do not accept any responsibility for use that may be made of the information it contains.
Copyright © 2017