Welcome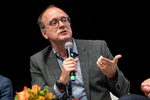 Alzheimer Europe's October 2021 newsletter brings you the latest news on developments in the dementia field, across Europe and beyond.
Summaries of a few of our top stories appear below.
Our monthly newsletter reaches around 11,000 people and we are always happy to receive feedback, or suggestions regarding news items to share in future issues.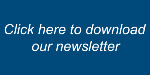 19 October: Dementia in Europe issue 37 published as an e-magazine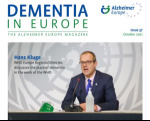 Alzheimer Europe has published a new edition of its "Dementia in Europe" policy magazine, in an electronic format. It highlights our efforts and those of our member associations to make dementia a European priority, and provides updates on the latest national- and European-level policy developments in the dementia field.
Read more »
21 October: MEPs vote for greater funding for health and research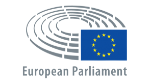 On 21 October, the European Parliament voted to support the reversal of the cuts made by the European Council to the 2022 EU budget, restoring the levels originally proposed by the European Commission, whilst topping up key programmes. Of particular relevance for dementia is the decision of MEPs to increase funding for the Horizon Europe research programme, as well as the EU4Health programme.
Read more »


25 October: Health Commissioner commits to operating grants for health NGOs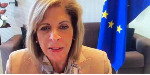 On 25 October, the European Commissioner for Health, Stella Kyriakides, confirmed that as part of the EU4Health programme, operating grants will be available for health NGOs, at least at the level of the 3rd Health Programme (2014-2020). During a call between the Commissioner and health NGOs (Alzheimer Europe, European Patients Forum, European Public Health Alliance and EURORDIS), Commissioner Kyriakides explained that the funding arrangement was still under development and that they expected to share more details early in November.
Read more »


29 October: The 31st Alzheimer Europe Conference is nearly here – register now!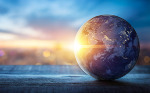 The 31st Alzheimer Europe Conference (#31AEC) is fast-approaching, with only four weeks to go! The conference will take place online from 29 November to 1 December. Conference registration gives you admission to all sessions, access to poster presentations, to chat rooms and to all conference videos after the event. Special rates are available for people with dementia, students, and members of Alzheimer Europe.
Read more »

This newsletter received funding under an operating grant from the European Union's Health Programme (2014-2020).
The content of this newsletter represents the views of the author only and is his/her sole responsibility; it cannot be considered to reflect the views of the European Commission and/or the Consumers, Health, Agriculture and Food Executive Agency or any other body of the European Union. The European Commission and the Agency do not accept any responsibility for use that may be made of the information it contains.
Copyright © 2021