Welcome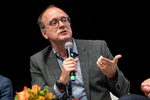 Alzheimer Europe's October 2022 newsletter brings you the latest news on developments in the dementia field, across Europe and beyond.
Summaries of a few of our top stories appear below.
Our monthly newsletter reaches around 12,000 people and we are always happy to receive feedback, or suggestions regarding news items to share.

17 October: New edition of Dementia in Europe magazine is published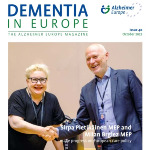 It is with great pleasure that we introduce the 40th edition of our Dementia in Europe magazine. This edition has been published both electronically and in paper format, and its launch coincided with the first day of the 32nd Alzheimer Europe Conference, in Bucharest, where all delegates received a copy of the magazine.
Read more »
19 October: Dutch "Adoptionproject" wins Alzheimer Europe's new Anti-Stigma Award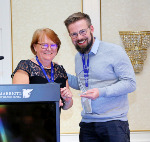 Warm congratulations to the winners of our new Anti-Stigma Award, "Adoptieproject: Jong adopteert Oud" (Adoption project, young adopts old) of the Alzheimer Centrum Limburg, with second place going to the campaign "Non ti scordare di volermi bene" (Don't forget to love me) by Federazione Alzheimer Italia, and third place to "Changing perceptions of dementia in the Punjabi community" by Alzheimer's Society, UK.
Read more »

Views and opinions expressed are however those of the author(s) only and do not necessarily reflect those of the European Union or European Commission. Neither the European Union nor the granting authority can be held responsible for them.
Copyright © 2022