Newsletter
July-August 2023

Welcome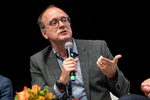 Alzheimer Europe's July-August 2023 newsletter brings you the latest news on developments in the dementia field, across Europe and beyond.
Summaries of a few of our top stories appear below.
Our monthly newsletter reaches thousands of people with an interest in the field, from across Europe and beyond. We are always happy to receive feedback, or suggestions regarding news items to share.


Views and opinions expressed are however those of the author(s) only and do not necessarily reflect those of the European Union or European Commission. Neither the European Union nor the granting authority can be held responsible for them.
Copyright © 2023