31st Alzheimer Europe Conference
Resilience in dementia: Moving beyond the COVID-19 pandemic

Virtual conference, 29 November - 1 December 2021

Second day of virtual Alzheimer Europe Conference focuses on lessons learned from the COVID-19 pandemic and on innovations in dementia diagnosis and care through new technologies
Luxembourg, 1 December 2021 – The second day of the 31st Alzheimer Europe Conference (#31AEC) "Resilience in dementia: Moving beyond the COVID-19 pandemic", on 30 November 2021, focused on lessons learned from the COVID-19 pandemic and on innovations in dementia diagnosis and care through new technologies.
Lessons from the COVID-19 pandemic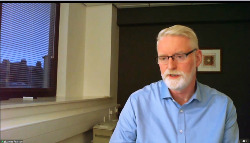 The second plenary of the conference was on "Lessons from the COVID-19 pandemic" and opened with a presentation on "Reinventing counselling and home support during the pandemic", given by Jim Pearson, Director of Policy and Practice, Alzheimer Scotland and Board member and Honorary Secretary of Alzheimer Europe.
He began by noting that the disruption to daily routines, social interactions, and health and social care support during this pandemic has had a disproportionately negative impact on the physical and mental health of people with dementia and carers. He also noted that it is critical to have greater balance between public health measures in order to restrict the spread of COVID-19 and the harm we know those measures cause.
"We know what we need to do", he stated. "People with dementia, their families and carers, need action now. They do not have time to wait for the lessons of this pandemic to be learned."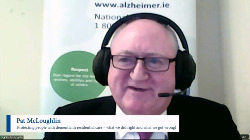 During the next presentation, on "Protecting people with dementia in residential care – what we did right and what we got wrong!", Pat McLoughlin, CEO, The Alzheimer Society of Ireland (ASI) noted that, unlike other countries, Ireland has no information on the extent dementia was one the main underlying condition for deaths during COVID. He also stressed that the ASI felt that more could have been done by the Nursing Homes Expert Group or Government Special Committee to highlight the particular challenges faced by people with dementia during the pandemic. On the other hand, the ASI welcomed the practical measures and resources announced by the Government in home care supports and a more integrated community-based approach for people with dementia and their carers.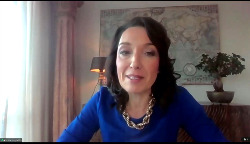 In the third and final presentation, Miia Kivipelto, Director of Research, Development, Education and Innovation, Karolinska University Hospital, Karolinska Institutet, discussed multimodal prevention studies and lifestyle changes during the pandemic. As the coordinator of the global World-Wide FINGERS network and the EURO-FINGERS project, she noted that the pandemic has had significant effects on many modifiable risk factors for dementia and Alzheimer´s disease (AD), and on ongoing randomised clinical trials for dementia risk reduction and prevention. Negative effects of the pandemic include direct consequences of the COVID-19 disease, and indirect effects due to disruption of regular healthcare services, social and physical distancing or mobility restrictions imposed by several countries to curb the spread of the infection.
All plenary sessions at the conference are co-moderated by Jean Georges, Executive Director of Alzheimer Europe and Kim Coppes from Live Online Events.
Following this plenary session, delegates had the chance to join a choice of four parallel sessions: One on maintaining dementia as a public health priority; another on rehabilitation in dementia; the third by Brain Health Scotland on the importance of physical activity, sport and nutrition for brain health; and the final one by the Deutsches Zentrum für Neurodegenerative Erkrankungen (DZNE) on ethnic minorities.

Live lunchtime cooking

At lunch time, delegates were invited to attend a live cooking session. Chef Berdien Siere, who runs Siere Cateraars, a catering company in Amsterdam taught participants how to cook an easy and healthy lunch time omelette.
She was joined by Alzheimer Europe Chairperson, Iva Holmerová, and Executive Director, Jean Georges, who helped with preparations and discussed the importance of healthy nutrition and the joys of preparing food and eating together with people with dementia.
European Working Group of People with Dementia (EWGPWD): "Resilience and dementia"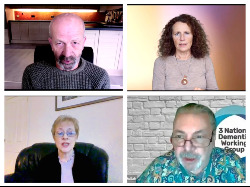 One of the highlights of the second day of the virtual Alzheimer Europe Conference was a special symposium organised by the European Working Group of People with Dementia (EWGPWD). Three members of the group made videos for the symposium: Margaret McCallion from Scotland, Nigel Hullah from England and Erla Jόnsdόttir from Iceland who was accompanied by her husband and supporter and Emil Emilsson.
The three speakers shared their views about resilience as part of living with dementia and also shared their experiences of living and coping with dementia during the pandemic, and how it affected them. A live question and answer session with the three speakers followed, moderated by Chris Roberts, Chairperson of the EWGPWD.
Following this and the symposium on "Building Resilience in Health Systems for People with AD: Early Detection and Timely Diagnosis in a COVID-19 World" organised by Roche in the early afternoon, delegates had the choice of a further four parallel sessions, covering mental health and dementia during the pandemic; intergenerational dementia initiatives; another session organised by the NEURONET initiative; and another by the INTERDEM network.
Innovations in dementia diagnosis and care through new technologies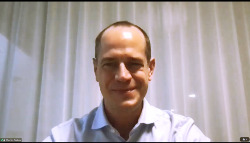 The third plenary of the conference explored "Innovations in dementia diagnosis and care through new technologies". Martin Traber, Global Medical Lead Alzheimer's Disease, Roche, opened with a presentation on the importance of flexible care settings and home care management in clinical trials within a rapidly changing COVID-19 environment.
He said that the pandemic has highlighted the levels of inequality in healthcare systems, showing us how this had catastrophic effects in the dementia community and forced us to be more "pandemic prepared" for the future. "Flexibility will be fundamental to all future efforts to improve outcomes for people with Alzheimer's disease, including how clinical trials are run and how patient care is delivered", he stated.
Finally, he stressed that the responsibility of Roche grew through their learnings of COVID-19 and when it comes to Alzheimer's disease. According to him, partnerships and collaborations will be key to improving the readiness of health care systems worldwide.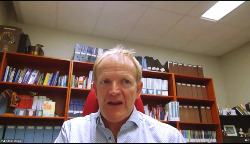 Adrian Wagg, Professor of Healthy Ageing, Department of Medicine, University of Alberta, Canada discussed ways of improving continence care for nursing home residents, thanks to new technologies.
Urinary incontinence is common in people living with dementia and is a cause of considerable distress, he said, and yet it is often overlooked. It is a major contributor to care-partner distress and a significant contributor in decisions to institutionalise persons living with dementia, he stressed and noted also that the management of urinary incontinence is often suboptimal and there is great potential for improvement, using a number of promising technological solutions.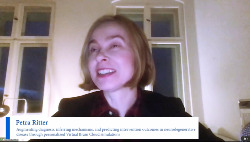 The third presentation of this plenary session was given by Petra Ritter, Johanna Quandt Professor for Brain Simulation at the Berlin Institute of Health, Charité University Medicine Berlin, Germany. She presented on "Augmenting diagnosis, inferring mechanisms, and predicting intervention outcomes in neurodegenerative disease through personalized Virtual Brain Cloud simulations".
Constructing and simulating individual models of the brain, or "digital twins", is a powerful tool for innovation and personalised medicine, she said. These digital twins help us to understand mechanisms of brain function and dysfunction, which will allow us to develop measures for prevention and therapies.
The Virtual Brain Cloud - a project of the European Open Science Cloud (EOSC) and a Partnering Project of the Human Brain Project and EBRAINS - provides a digital platform that enables collaborative research on sensitive health data in an audited environment that is compliant to the General Data Protection Regulations (GDPR) of the EU and thus protects the rights and the freedom of the data subjects and patients.
"The European Health Data Space will lift data-driven clinical research to a fundamentally new level", she said, and in closing highlighted that they are working towards an ecosystem of interoperable health data infrastructures – co-designed by the research communities involved in this project.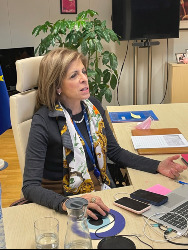 Following this, an address was given to the delegates by Stella Kyriakides, European Commissioner for Health and Food Safety.
"To effectively meet the needs of dementia patients, we must first understand them. It is vital to reach out to them, their families as well as to informal carers, who make an incredible contribution to our communities every day", she said.
"We are constantly learning about the human brain. Through its Framework Programmes for Research and Innovation, the EU will continue investing in effective prevention, better diagnostics and game changing treatments or cures. These will make a true difference for dementia patients across the Union", she concluded.
The second day of the Virtual Alzheimer Europe Conference drew to a close with two symposia, one on "The road behind and the road ahead: measuring the performance of 10 European governments on Alzheimer's disease", organised by the Global Coalition on Aging (GCOA) and the other on "The Importance of Sharing Global Alzheimer's Disease Data in Search of Novel Treatments and Cures" organised by the Alzheimer's Disease Data Initiative (ADDI).
Alzheimer Europe would like to extend a warm welcome to all delegates and remind everyone to use the hashtag #31AEC to join/follow the conversation on Twitter. The top influencer on Twitter will receive a free registration and free travel and accommodation for our Bucharest conference in 2022!
For further information, contact:
Jean Georges, Executive Director of Alzheimer Europe, 14, rue Dicks, L-1417 Luxembourg, Tel.: +352-29 79 70, Fax: +352-29 79 72, jean.georges@alzheimer-europe.org
Notes to editors:
Alzheimer Europe is the umbrella organisation of national Alzheimer associations and currently has 37 member organisations in 33 European countries. (www.alzheimer-europe.org).
The European Working Group of People with Dementia (EWGPWD) was launched by Alzheimer Europe in 2012. It is composed entirely of people with dementia, nominated by their national Alzheimer associations. They work to ensure that the activities of Alzheimer Europe reflect the priorities and views of people with dementia. The group operates independently and the Chairperson is also on the Board of Alzheimer Europe. (www.alzheimer-europe.org/Alzheimer-Europe/Who-we-are/European-Working-Group-of-People-with-Dementia)
EU-FINGERS With prevention being identified as a global priority, the EU-FINGERS consortium is working towards a novel multimodal precision prevention toolbox, based on an existing successful multimodal lifestyle/vascular prevention model, FINGER (Finnish Geriatric Intervention Study to Prevent Cognitive Impairment and Disability) and on a precision prevention and early detection (PPED) approach, adapted from cancer research. EU-FINGERS (INTER/JPND/19/BM/14012609) is an EU Joint Programme - Neurodegenerative Disease Research (JPND) project and is supported by the Luxembourg national research fund (FNR). (https://www.neurodegenerationresearch.eu/wp-content/uploads/2020/06/PROJECT-EU-Fingers.pdf)
INTERDEM is a pan-European network of researchers collaborating in research on and dissemination of Early, Timely and Quality Psychosocial Interventions in Dementia aimed at improving the quality of life of people with dementia and their supporters, across Europe (http://interdem.org/).
The NEURONET initiative (Efficiently Networking European Neurodegeneration Research) is a three-year coordination and support action aiming to set up an efficient platform to boost synergy and collaboration across the Innovative Medicines Initiative (IMI) projects in the Neurodegenerative Disorders (ND) portfolio. Neuronet has received funding from the IMI 2 Joint Undertaking under grant agreement No 821513. The JU receives support from the European Union's Horizon 2020 research and innovation programme and EFPIA and Parkinson's UK. (www.imi-neuronet.org)
VirtualBrainCloud is a four year project (2018-2022) developing and validating a decision support system that provides access to high quality multi-disciplinary data for clinical practice. The result will be a cloud-based brain simulation platform to support personalised diagnostics and treatments for neurodegenerative diseases. The interdisciplinary VirtualBrainCloud consortium will also develop robust solutions for legal and ethical matters by interacting with the HumanBrainProject, Alzheimer Europe and ELIXIR, an organisation that manages and safeguards EU research data. The project has received funding from the European Union's Horizon 2020 research and innovation programme under grant agreement No 826421. (https://virtualbraincloud-2020.eu)
---

Follow the event on Twitter #31AEC


The 31st AE Conference received funding under an operating grant from the European Union's Health Programme (2014-2020). Alzheimer Europe gratefully acknowledges the support of all conference sponsors.



Published by Alzheimer Europe © 2021 All rights reserved.