28th Alzheimer Europe Conference
Making dementia a European priority

Barcelona, Spain, 29-31 October 2018
Conference Highlights - Day 1
28th Alzheimer Europe Conference in Barcelona "Making dementia a European priority" brings together more than 800 participants from 46 countries under the Patronage of HM Queen Sofía of Spain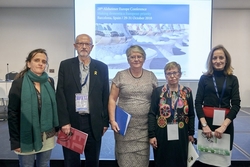 Barcelona, 30 October 2018 – The 28th Alzheimer Europe Conference (#28AEC) "Making dementia a European priority" was formally opened on the evening of 29 October 2018, under the Honorary Patronage of Her Majesty Queen Sofía of Spain. More than 800 participants from 46 countries are attending the conference, in Barcelona, from 29 to 31 October 2018, which involves 239 speakers and 175 poster presenters, sharing their research, projects and experiences in an atmosphere of collaboration.
Iva Holmerová, Chairperson of Alzheimer Europe (AE) opened the conference, thanking HRH Queen Sofia for her Patronage and extending a special welcome to the 35 people with dementia attending the conference, as well as their supporters. Ms Holmerová has been involved in the dementia movement for many years, during which, she said, her "purely" professional view on dementia has changed, due to meetings with people with dementia and caregivers and to her close personal insights into dementia, with her mother and her mother's partner. She now believes that we should broaden our focus, which has been mainly on diagnosis, pharmacotherapy, interventions and management. The individual needs and preferences of people with dementia and their families should be considered and respected, she emphasised; and these needs and preferences translated into clinical and practical thinking and acting.
Following Ms Holmerová, Cheles Cantabrana, Chairperson of the Confederación Española de Alzheimer (CEAFA), Noemí Martínez, Vice-Chairperson of Fundación Alzheimer España (FAE), Gemma Tarafa, Commissioner for Health (Spain) and Santiago Marimón Suñol, a person living with dementia from Spain also welcomed delegates.
Ms Cantabrana (CEAFA) thanked Alzheimer Europe for helping to put dementia in the spotlight in Spain by holding its conference in Barcelona. She emphasised the importance of Spain taking the final step to approve its national dementia strategy, the creation of which has been one of the focal points for her organisation in recent years. She implored representatives of the Spanish authorities in attendance to use the experiences of other countries present to help them move forward.
Ms Martínez (FAE) highlighted some positive changes in recent years, for people with dementia and their carers, with a huge increase in the information, training and scientific knowledge available to them. There is more participation from everyone concerned (institutions, self-help movements, and pharma and tech companies, among others), she said. Nevertheless, there are too many differences across Europe with regards the length of time from diagnosis to end-of-life. In the immediate future, FAE will be focusing on improving early diagnosis rates, as well as helping patients and carers access new technologies and training, helping forge better links between professionals and families and putting more pressure on the relevant authorities to help implement everyday solutions.


Collaborating to overcome the challenges presented by dementia prevention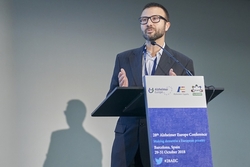 In his keynote presentation "Will we be able to prevent Alzheimer's disease?" Dr Jose Luis Molinuevo from BarcelonaBeta Brain Research Center gave an overview of the challenges and opportunities regarding the prevention of Alzheimer's disease (AD). He expressed the rationale behind preventing AD and the reason why prevention may be a key way forward to tackle it. However, he stressed, this is far from easy and there are many challenges along the way.
"Although the advent of biomarkers does allow us to identify AD in vivo through biomarkers that are proxies of pathology, and improved trials design is allowing us to test new pathways in a more efficient way, defeating AD is still a challenge that will require all of us working together to find a solution" he commented.
Following Dr Molinuevo's lecture, delegates enjoyed a lively welcome reception in the Foyer of the Barceló Sants Hotel, where they were treated to a fusion of Flamenco and Afro-Cuban music played by the group "Sabor de Gracia".


A new Board and two new member organisations for Alzheimer Europe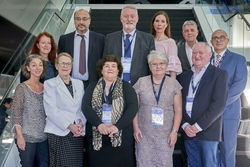 Prior to the opening ceremony, a number of ancillary meetings took place. Alzheimer Europe organised its Annual General Meeting with representatives of its national member organisations, to update them on its activities in 2017 and its plans for 2019.
During the meeting, Board members for 2018-2020 were voted in. The new Alzheimer Europe Board (2018-2020) is composed of the following members:
Iva Holmerová, Chairperson (Czech Republic)

Charles Scerri, Vice-Chairperson (Malta)

Maria do Rosário Zincke dos Reis, Honorary Treasurer (Portugal)

Jim Pearson, Honorary Secretary (UK-Scotland)

Stefanie Becker (Switzerland)

Marco Blom (Netherlands)

Sabine Jansen (Germany)

Pat McLoughlin (Ireland)

Sirpa Pietikäinen, MEP (Finland)

Helen Rochford Brennan, Chairperson of the European Working Group of People with Dementia (Ireland)

Jesús Rodrigo (Spain)

Karin Westerlund (Sweden)
Also during its AGM, Alzheimer Europe was pleased to welcome two new member organisations. Alzheimer's Disease Association Macedonia and NGO Life with Dementia, Estonia were formally voted in, bringing the number of members to 42, hailing from 37 countries.

2018-2020 European Working Group of People with Dementia confirmed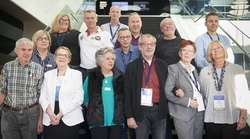 Prior to the conference, the European Working Group of People with dementia (EWGPWD) met to prepare for their involvement in the #28AEC conference programme, including the Special Symposium "I have dementia and life goes on" being held on 30 October 2018, from 12.45-13.45 (MR10).
The EWGPWD for 2018-2020 is composed of the following 14 members, including four new members, welcomed by the group at this pre-conference meeting:


Helen Rochford-Brenna

n

, Ireland (Chairperson)

Chris Roberts, UK (Vice-Chairperson)

Idalina Aguiar, Portugal
Stefan Eriksson, Sweden (new)
Tomaž Grižnič, Slovenia
Amela Hajrič, Bosnia & Herzegovina
Carol Hargreaves, Scotland (UK)
Bernd Heise, Germany (new)
Miha Kastelic, Czech Republic (new)
Petri Lampinen, Finland
Thomas Maurer, Switzerland
Angela Pototschnigg, Austria (new)
Helga Rohra, Romania
Geert Van Laer, Belgium

Interdem network holds its Annual Meeting in Barcelona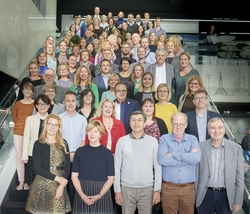 Interdem is a network of researchers interested in psychosocial interventions. It is made up of 204 researchers and academics with different professional disciplines, spread across 23 countries (19 of which are in Europe).
The Interdem network held its fully booked Annual Meeting on 29 October 2018, prior to #28AEC, with 85 researchers attending. There were two sessions, the first of which was reserved for participants to share news of their ongoing research activities, and gave them the opportunity to give and receive feedback, as well as exploring opportunities for further collaboration. The second session, focused on "New insights in dementia research, staff training".  Speakers from Germany, the UK and Australia presented some of the issues faced when training staff caring for people with dementia. They also discussed theoretical issues and ongoing research in this field.


Programme Board of the 2nd European Joint Action meets to discuss progress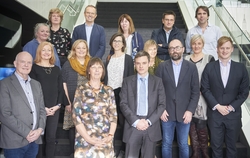 The Programme Board of the Joint Action (JA) also met on 29 October 2018, in Barcelona. Gillian Barclay, from the Scottish Government team coordinating the Joint Action, said: "We are delighted that the 6th EU JA 'Act on Dementia' Programme Board coincides with #28AEC - thanks to Jean Georges and his team for helping us to do this. It is a great opportunity for members to hear at first hand from people with dementia and their carers from across Europe - and to engage with other Member States about this ongoing work." 
The JA has completed the first phase of its work and is now carrying out pilot tests in sites across Europe - exploring the challenges and opportunities around implementation of best practices to improve diagnosis and post diagnostic support, care coordination, residential care and to develop dementia friendly communities. A list of measures/areas of improvement for future impact assessment of this project is being developed.
Several members of the Programme Board are speaking at the conference or delivering poster presentations. The JA hopes many delegates at the conference will be able to attend the sessions and take the chance to talk to them about their work.
Alzheimer Europe would like to extend a warm welcome to all delegates and remind everyone to use the hashtag #28AEC to join/follow the conversation on Twitter.
For further information, contact:
Jean Georges, Executive Director of Alzheimer Europe, 14, rue Dicks, L-1417 Luxembourg, Tel.: +352-29 79 70, Fax: +352-29 79 72, jean.georges@alzheimer-europe.org


Notes to editors:
Alzheimer Europe is the umbrella organisation of national Alzheimer associations and currently has 42 member organisations in 37 European countries. (www.alzheimer-europe.org).
The European Working Group of People with Dementia (EWGPWD) was launched by Alzheimer Europe in 2012. It is composed entirely of people with dementia, nominated by their national Alzheimer associations. They work to ensure that the activities of Alzheimer Europe reflect the priorities and views of people with dementia. The group operates independently and the Chairperson is also on the Board of Alzheimer Europe. (/www.alzheimer-europe.org/Alzheimer-Europe/Who-we-are/European-Working-Group-of-People-with-Dementia)
Interdem is a pan-European network of researchers collaborating in research on and dissemination of Early, Timely and Quality Psychosocial Interventions in Dementia aimed at improving the quality of life of people with dementia and their supporters, across Europe (http://interdem.org/).
The 2nd European Joint Action on Dementia (2016-2019) aims to promote the implementation in EU Member States of coordinated actions to improve the situation of people living with dementia and their carers. These actions were identified by ALCOVE, the first European Joint Action on Alzheimer Cooperative Valuation in Europe. It focuses on four key areas for action: diagnosis and post diagnostic support, crisis and care coordination, residential care and dementia-friendly communities. This Joint Action (Grant Agreement No 678481) has received funding from the European Union's Health Programme (2014-2020). (www.actondementia.eu)
The 28th Alzheimer Europe conference received funding under an operating grant from the European Union's Health Programme (2014-2020). Alzheimer Europe, CEAFA and Fundación Alzheimer España gratefully acknowledge the support they have received for the 28th Alzheimer Europe Conference.



Published by Alzheimer Europe © 2018 All rights reserved.