MEDIA RELEASE                        COMMUNIQUE AUX MEDIAS                     MEDIENMITTEILUNG     
Alzheimer Europe presents the 42nd edition of Dementia in Europe magazine and its 2022 Annual Report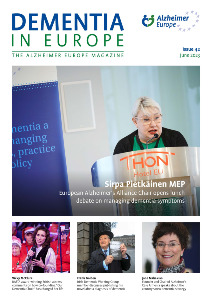 6 June 2023, Brussels - The 42nd edition of Dementia in Europe magazine was officially launched at Alzheimer Europe's lunch debate in Brussels today.
This new edition is filled with important updates on European and national policy developments in the dementia field, including national dementia strategy news, initiatives on better ageing and combatting ageism, campaigning for governments to prioritise dementia, recent developments in dementia care, long-term care and in ensuring the voices of dementia carers are heard at the European level.
We also include updates on European research projects and other areas of research related to prevention and to continence care, as well as articles related to the inclusion of people with dementia in the arts and in cultural activities.
You can download the magazine, here:
https://www.alzheimer-europe.org/sites/default/files/2023-06/dementia_in_europe_magazine_issue_42_june_2023.pdf
It will also soon be possible to order paper copies of the magazine, via our website. Watch this space!
---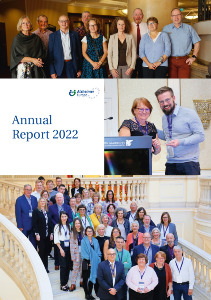 Alzheimer Europe's 2022 Annual Report was also launched today in Brussels. It looks back at the organisation's activities and achievements last year.
Core activities were funded by an operating grant awarded by the European Commission and funded through the Citizens, Equality, Rights and Values (CERV) programme.
This support allowed Alzheimer Europe and its national member organisations to continue providing a voice to people with dementia and their carers, making dementia a European priority, changing perceptions and combating stigma, raising awareness of brain health and prevention, strengthening the European dementia movement and supporting dementia research.
You can download the annual report, here:
https://www.alzheimer-europe.org/sites/default/files/2023-06/2022_annual_report_of_alzheimer_europe_final.pdf
With thanks to all our corporate sponsors for 2023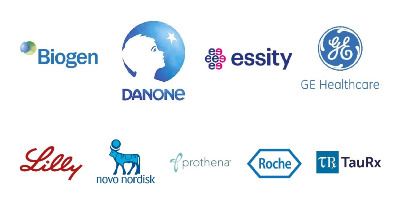 Published by Alzheimer Europe © 2023 All rights reserved.