33rd Alzheimer Europe Conference
New opportunities in dementia care, policy and research

16-18 October 2023, Helsinki, Finland

Join us for the 33rd Alzheimer Europe Conference in Helsinki!
We are delighted to invite you to register for the upcoming 33rd Annual Conference of Alzheimer Europe #33AEC, which will take place in Helsinki, Finland, under the banner "New opportunities in dementia care, policy and research".
This event will be mainly in-person but will include some broadcast elements such as plenary sessions, and other carefully selected parallel sessions and symposia to allow those still unable to travel to participate from the comfort of their home or office.
We look forward to welcoming delegates and speakers for our 33rd Annual Conference from 16 to 18 October 2023.
Early bird registrations are now open!

Take advantage of the early bird registration fees until 30 June 2023 to attend in-person in Helsinki or virtually. Register with the early bird rates and benefit from the reduced in-person registration fee of EUR 400 instead of EUR 500.
The full registration fee includes:
Admission to all in person and online sessions
Access to on demand videos and posters after the conference till 31 January 2024
Delegate bag and final programme
Opening ceremony
Welcome reception at Helsinki City Hall and transfer to the venue
Scheduled coffee breaks and lunches on 16, 17 and 18 October
Networking opportunities
Access to the exhibition hall
A 30% discount is available for participants from low and middle income countries.
Special rates are also available for people with dementia, students and member associations of Alzheimer Europe. Click here for more information.
Submit your abstract!
Alzheimer Europe and Muistiliitto are calling for abstracts for oral and poster presentations on the following subjects:
New opportunities in care

Architecture and design

Care staff and work force

Integrated care

Palliative care

Relationships and sexuality

Residential care

New opportunities in treatment and management

Comorbidities in dementia

Detection and diagnosis

Informal carer support and training

Living with dementia

Psycho-social interventions

Technology and dementia

New opportunities in research

Brain health and prevention

Clinical trial recruitment and retention

Economic cost of dementia

Genetics

Patient and public involvement in research

Young onset dementia

New opportunities in policy

Awareness and anti-stigma campaigns

Dementia-inclusive initiatives

Ethical and legal issues in dementia

LGBTQ+ community

Minority ethnic groups

National dementia strategies
The call for abstracts will close on 30 April 2023. Click here for more information.


Accommodation information
Alzheimer Europe was able to secure a number of rooms with special rates at the conference hotel Holiday Inn Helsinki Expo until 02 October 2023. After this date, all unclaimed rooms will be released and new bookings may be subject to new prices.
15-18 Oct 2023 – 200 rooms available
18-19 Oct 2023 – 100 rooms available
Rate / room / night
150 € / standard single room
170 € / standard twin double rooms
The above rates include buffet breakfast.


For accommodation information please click here.
Official carrier information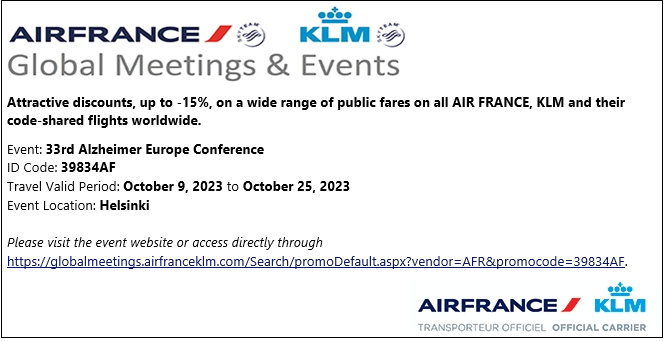 Access videos and poster presentations from the 32nd Alzheimer Europe Conference for free!
If you were unable to participate in the 32nd Alzheimer Europe Conference in October last year, you can now access some of our on-demand content from the event, free of charge. Videos of plenary and parallel presentations, as well as quick oral presentations are now available online.
View further details and videos on our webpage: Access the videos here


You can also watch the videos in a specially-created playlist, on Alzheimer Europe's YouTube channel: Click here to access the playlist
---

Follow the event on twitter #33AEC


Alzheimer Europe and Muistiliitto gratefully acknowledge the support of all conference sponsors.





Published by Alzheimer Europe © 2023 All rights reserved.