Welcome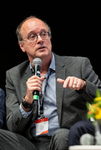 Alzheimer Europe's February 2020 newsletter brings you the latest news on developments in the dementia field, across Europe and beyond.
Summaries of a few of our top stories appear below.
Our monthly newsletter has over 8,500 subscribers and we are always happy to receive their comments, or suggested news items to share in future issues.


18 February: AE lunch debate examines European research collaborations

Alzheimer Europe and the Neuronet project co-organised a lunch debate on the topic of "The Innovative Medicines Initiative (IMI): Advancing Alzheimer's research through private-public partnerships"on 18 February 2020, in Brussels. The debate was co-hosted by Christophe Hansen MEP (Luxembourg).
18 February: Discussion report calls for more diversity in research

On 18 February, Alzheimer Europe launched its new publication: "Overcoming ethical challenges affecting the involvement of people with dementia in research: recognising diversity and promoting inclusive research."
The report highlights the need for ethically sound involvement of a more diverse set of people with dementia in all aspects of research.
18 February: AE Yearbook looks at dementia prevalence in Europe

On 18 February, at a European Parliament lunch debate hosted by Christophe Hansen MEP (Luxembourg), Alzheimer Europe launched a new report presenting the findings of its collaborative analysis of recent prevalence studies and setting out updated prevalence rates for dementia in Europe.
25 February: Call for abstracts and registrations open for #30AEC
Alzheimer Europe and Societatea Română Alzheimer are pleased to announce that registrations and the call for abstracts are both open for the 30th Alzheimer Europe Conference (#30AEC). The call for abstracts will close on 15 May, while Early Bird registration rates will be available until 15 July.
27 February: Spanish Government publishes Alzheimer's action plan

The Spanish Government has published its "Plan Integral de Alzheimer y otras Demencias" (Comprehensive Alzheimer's and other dementia Plan), setting out how it plans to improve the lives of people living with dementia in the country. There are 20 "objectives", under which more specific action points are outlined.

This newsletter received funding under an operating grant from the European Union's Health Programme (2014-2020).
The content of this newsletter represents the views of the author only and is his/her sole responsibility; it cannot be considered to reflect the views of the European Commission and/or the Consumers, Health, Agriculture and Food Executive Agency or any other body of the European Union. The European Commission and the Agency do not accept any responsibility for use that may be made of the information it contains.
Copyright © 2020