Welcome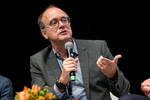 Alzheimer Europe's November 2019 newsletter brings you the latest news on developments in the dementia field, across Europe and beyond.
Summaries of a few of our top stories appear below.
Our monthly newsletter has over 8,500 subscribers and we are always happy to receive their comments, or suggested news items to share in future issues.
Click here to download full newsletter
24 October: Switzerland launches National Platform on Dementia

On 24 October 2019, the Swiss Government announced that it will transform the National Dementia Strategy 2014-2019 into a new "National Dementia Platform".
The aim of the National Dementia Strategy was to improve the quality of life of people with dementia and their families. It expires at the end of 2019 and the new platform aims to continue the work started with the strategy and to facilitate professional exchange.
Read more »
11 November: MIRIADE project holds official kick-off meeting in Amsterdam

The MIRIADE Marie Curie ITN project was kicked-off on 11 November at a meeting in Amsterdam. MIRIADE aims to generate a novel generation of scientists able to accelerate fluid biomarker development for dementias. Alzheimer Europe will support the dissemination and communication activities and provide secondments to two early-stage researchers, during the course of the project.
Read more »


11 November: Enjoyed #29AEC? Mark the dates for #30AEC!

If you attended and enjoyed #29AEC or were unable to join us in The Hague and were sorry to miss out, then mark the dates for the 30th Alzheimer Europe Conference! #30AEC will take place in Bucharest, Romania, on 20-22 October 2020. More information about the conference in Bucharest will soon be available on our website. The call for abstracts will open in the early part of next year (typically in February) and the registrations soon after that (typically in March).
Read more »
18 November: EPAD project releases its first wave of data

The EPAD project has announced the release of its first wave of data including the baseline data from the first 500 research participants (V500.0). The project is one of the world's leading dementia prevention studies involving 39 organisations across multiple sectors.Alzheimer Europe is proud to be involved in this work.
Read more »

This newsletter received funding under an operating grant from the European Union's Health Programme (2014-2020).
The content of this newsletter represents the views of the author only and is his/her sole responsibility; it cannot be considered to reflect the views of the European Commission and/or the Consumers, Health, Agriculture and Food Executive Agency or any other body of the European Union. The European Commission and the Agency do not accept any responsibility for use that may be made of the information it contains.
Copyright © 2019